Custom Built-In Cabinetry in Burlington
Handcrafted Built-In Cabinetry in Burlington, WI
Here at Springbrook Cabinetry we design and create impressive built-in cabinetry for your home or office. Our mission is simple: Create and design exceptional handcrafted built-in cabinetry that our customers will be proud and love.
It really doesn't matter if you are looking for a small bookcase, home office, entertainment center or anything that needs a built-in cabinet, Springbrook Cabinetry will not let you down. We will work closely with you to determine your ideas and give you a design that will be accepted, then we will deliver the built-in cabinetry based on this design.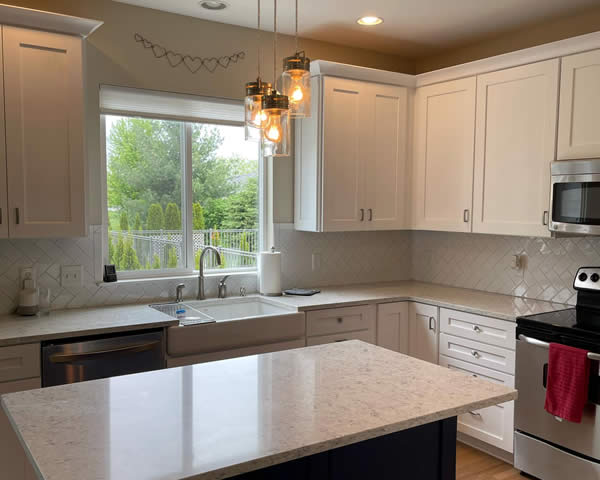 Fireplace Surrounds, Design and Millwork
Fireplaces look so beautiful when you have a custom mantel or trimwork which enhances the look of the fireplace and creates a focal point of the room. With our many years of experience Springbrook Cabinetry.
Stairs and Stair Railings
Springbrook Cabinetry specializes in custom stairs and stair railings, spiral stairs, stair installation, curved stairs, and other stair millwork. We are a full service stair design and building company with highly experienced craftsman who can build your stairs and stair railings to fit your home.
Our custom handcrafted stair railings is a unique, one-of-a-kind staircase. We work closely with our clients to ensure all ideas and details are met and exceeded. When you are custom building a staircase, experience is an important factor and Springbrook Cabinetry has many years to ensure the staircase is completed with high quality.
Burlington Custom Built-In Cabinetry
If you are looking for custom built-in cabinets let Springbrook Cabinetry show you how easy it can be with our expert cabinet services. If you live in Southern Wisconsin including Kenosha County, Kenosha, Twin Lakes; Racine County, Burlington, Racine, Union Grove, Waterford; Walworth County, Lake Geneva; Waukesha County, Muskego, and the surrounding areas, call us at (262) 620-4434 or complete our form below.